Louder LOUDER....
Unique to this site John Hudson product!!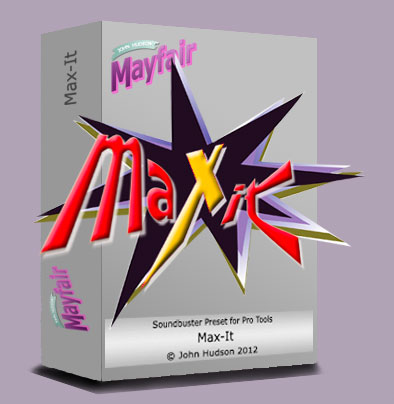 "MAX iT"
Mastering Simulator
You want it LOUD - YOU'VE GOT IT
now for just $99!
This product cannot be purchased anywhere else on the web
"Hey, I've just been doing a mix with a really great performance dynamic vocal, and to get the vocal under control I tried a few plug-ins, but I have to say that nothing came close to my own MAX iT pre-set (above). So, if you are mixing in Pro Tools you really should give this a try. It has built in de-essing and it also gives you a slight analogue tape top end. The pre-set session works just fine with no tweaking. It's pretty good even if I say so myself".
Your finished song will be louder than you thought possible just import the audio and press play........John Hudson (Soundbuster guru)

"This is a Pro Tools PRESET session that will definitely "Max your mix".
"Easy set up" & pdf instructions included in the download.
Tell me more about "MAXiT".....


....or if you are looking for a basic Mix Template try my "Soundbuster" Mix Preset.
"Soundbuster" Mix Template
Set up your Mix in Minutes
5 STAR REVIEW ★★★★★
Soundbuster Mix Templates will set your mix up in minutes using Grammy award winning engineer John Hudson's own preset. Uses just BASIC Protools Plugins. Don't bother staggering through the Protools manual - Soundbuster Mix Preset will do it for you.

"in this mix setup preset I've set up the relationship between the instruments so you get great separation and everything isn't in the same area.


Soundbuster gets you started and gives you some Mayfair Magic"
.......John Hudson Mayfair (Sound guru)
Mayfair Studios London expertise at your fingertips!
Tell me more about "Soundbuster"
or For the full range of our products go to our Online Store