Mayfair's famous Studio 2 with marble floor

Coldplay
Radiohead
Kasabian
Spice Girls
Shazney Lewis
Florence and the Machine
Jeff Beck
The Kooks
Madonna
Lily Allen
Paul McCartney
The Streets
Simon Webbe
All Saints
Jack Penate
Fun Lovin Criminals
Scissor Sisters
Craig David
Yusuf Islam
Jamie Cullum
Amy Winehouse
Malcolm Maclaren
Pink Floyd
David Bowie
Darren Hayes
Paulo Nutini
Robin Gibb
Take That
Gorillaz
Nigel Kennedy
Chemical Brothers
Jimmy Page
Robert Plant

Adele
Sugababes
Stevie Wonder
Brian McFadden
Diana Ross
Jack Johnson
Arctic Monkeys
Annie Lennox
Leona Lewis
Olympic Games Theme
Tina Turner
BeeGees
X Factor
Mariah Carey
Herbert Gronemeyer
Herbie Hancock
Meatloaf
Eric Clapton
U2
Leo Sayer
Elton John
Tom Jones
Rod Stewart
James Reyne
Bryan Adams
Phil Collins
Cliff Richard
Kylie Minogue
The Who
Underworld
Queen
Joe Cocker
Ultravox
Visage
London's Top Studio 1970 - 2008
All titles with artists are listed on Mayfair Hits pages
Great sounds. Classic tracks thru time
The studios closed in 2008 - but the sounds live on......
Our story about Mayfair . . .
Almost everyone who came to the studios believed in the Mayfair magic, and because they believed it, magic happened. The magic lasted for 30 years and it touched everyone who was part of the magic ride.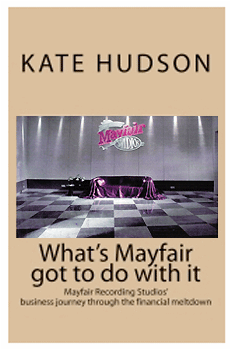 But why DID Mayfair close!!
Kate has written a book about navigating Mayfair Studios through the financial crisis of 2008, a crisis which is still continuing round the world to this day. The dramas, the crazy situations, what would you have done. A thriving business in the clutches of imcompetent professionals. Be warned.
Download pdf version or
purchase paperback on-line.
Keep Scrolling for History tour and photos.
Mayfair History Tour
The Early Years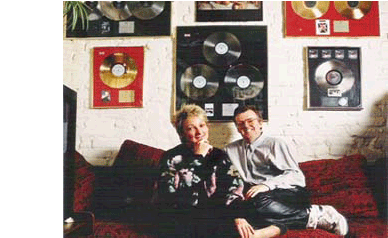 JOHN AND KATE with their first gold and platinum discs
Designed and owned by John Hudson and his wife Kate, Mayfair Recording Studios was a haven of creativity, a place where recording artists could come, relax and work in peace. They loved the atmosphere at Mayfair and so many hit records came out of the studios it was as though Mayfair somehow sprinkled magic on the artists tracks.
Mayfair began in the 1960's at 64 South Molton Street in London's Mayfair. The little company was poor then, but amazingly successful. We moved to beautiful Primrose Hill in 1981 and the week we moved from the old studio we had 5 records in the Top 20. It was as though the magic came with us. In the following years the new Mayfair grew to become one of the most respected and successful studios in the world.
Why was Mayfair so different?
When Kate and John Hudson took over Mayfair in 1979, the studio had no money. Other studios had better equipment, and Mayfair had nothing unique to sell but their enthusiasm and caring.
This was a lesson never to be forgotten. It became a way of life, and from the moment you walked through the door at Mayfair you could notice the difference. Everybody cared about your project, and wanted it to be successful. They wanted you to walk out that door happy, and with a hit record on the way. That's what Mayfair was all about.
Music touches everybody - our global community now spans 105 countries speaking 49 different languages.

SCROLL DOWN FOR MORE PICTURES OF THE STUDIOS and detailed spec for each studio.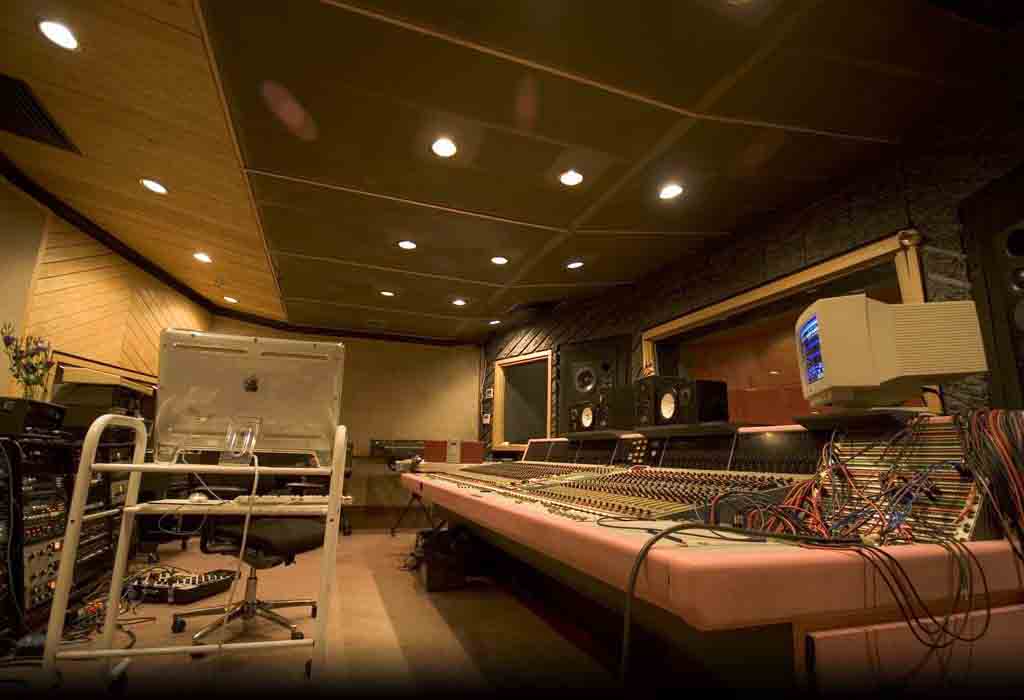 STUDIO TWO CONTROL ROOM
NEVE 60 CHANNELS
Size 24 x 18 ft. / 8 x 6 m
NEVE VR60 60 Channels
Flying Faders, recall and events
Lynx Synchroniser
Protools, two inch & half inch
The large console, known as the Pink Neve because of it's pink trim!, was positioned close to the 4 way Dynaudio monitor system giving ample room for the large leather sofa, and loads of keyboards and racks, as well as the five bays of outboard effects.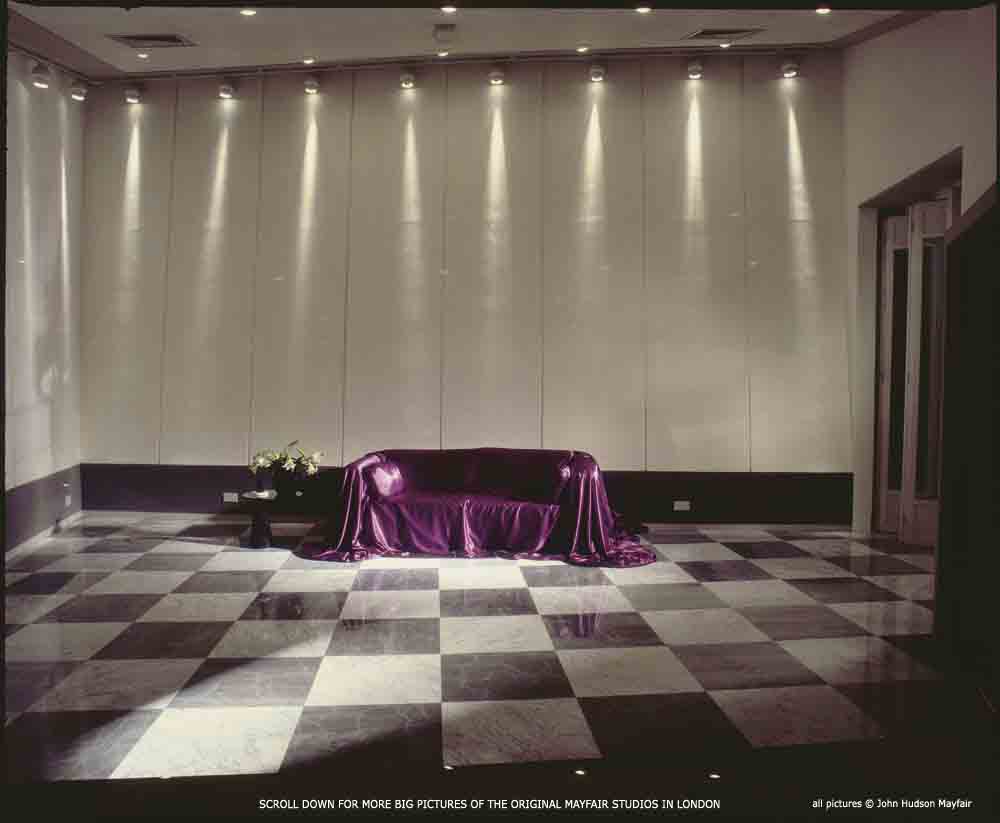 STUDIO 2 LIVE ROOM
Overall size 30 x 45ft./ 10 x 14m
The large main area had a very bright live feel with a high ceiling (14ft/4.6m)
You could make four separation areas with maximum visibility over the whole of the recording area.
Bosendorfer full size grand piano included

Scroll down to see more pictures....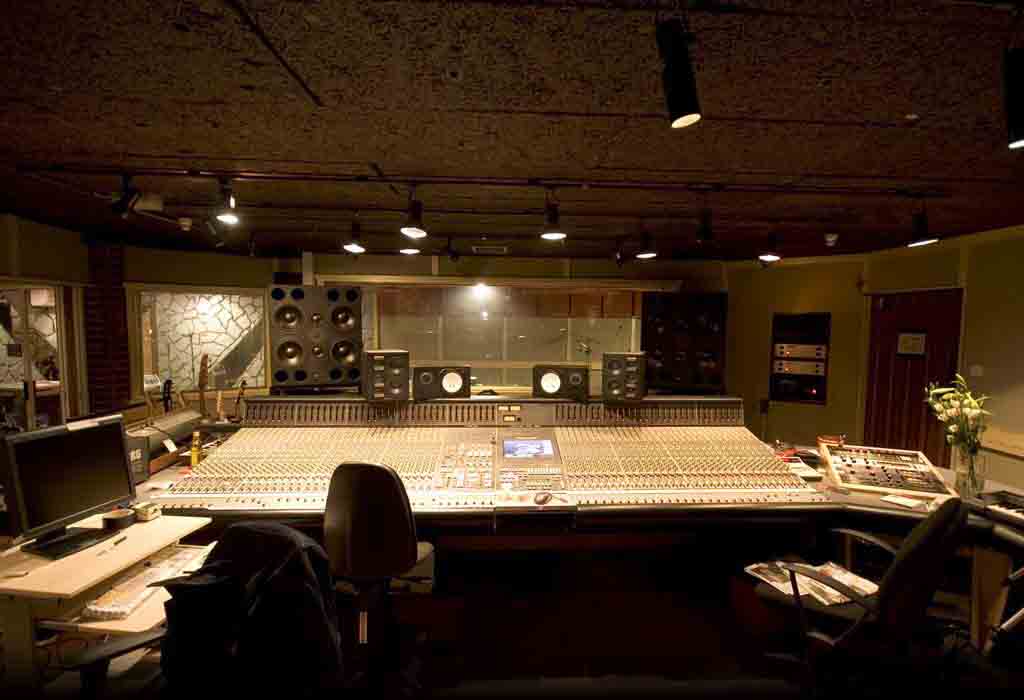 STUDIO ONE control room
SSL
5.1 SURROUND MIXING
Control room
24 x 21 ft./ 8 x 7 m
SSL XL9000 K Computer
64 Channels 'G' & 'E' eq switchable
Total Recall
5.1 Mixing
The console was centrally placed in the room giving a very accurate sound reproduction. There was a very large window and glass sliding doors to the studio areas

Live room 35 x 18 ft/ 11 x 6 m. divided into live end and dead end plus a separation booth connected by sliding glass doors.
The live room is ideal for a 3/5 piece band & tracking- excellent separation.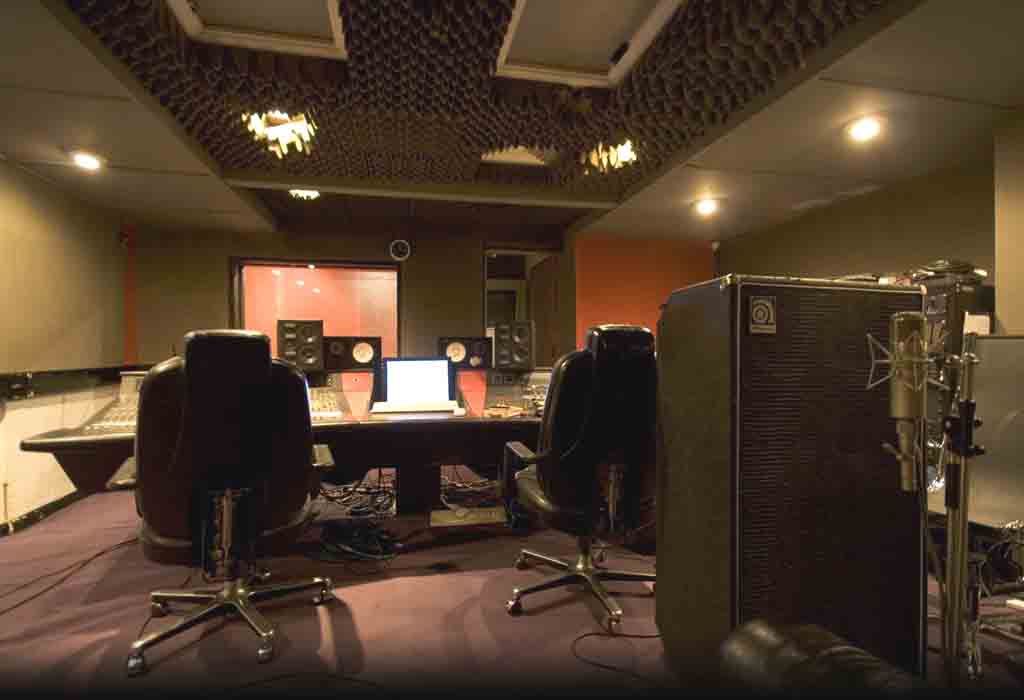 Mayfairs Writing & Programming Rooms
STUDIO THREE
Artists and Producers would come to Mayfair to do all their programming in these smaller studios/writing rooms with professional audio facilities & acoustics. It was a terrific atmosphere
Even if you were using your own equipment, Mayfair had all the full recording studio facilities right in the building, with tons of gear, miles of cables, connect anything to anything. They could make up special leads on the spot, and had experts to get you going when you crashed!


STUDIO THREE
This studio was favoured by new young artists and producers and many now famous names started their careers here such as Lily Allen, Sugababes, Amy Winehouse and Fun Lovin' Criminals.
Control Room 16.5 x 18ft./5m x 5.5m
Amek "BIG" Automated Mixing
32 channels. Total Recall
Bargraph Metering
To cater for the widest range of uses: bands, composers, record producers, advertisers, audiobooks, radio & TV production, podcasts this room provided, recording & tracking single instruments, Protools, mixing to picture, voice-overs and pre-production & writing.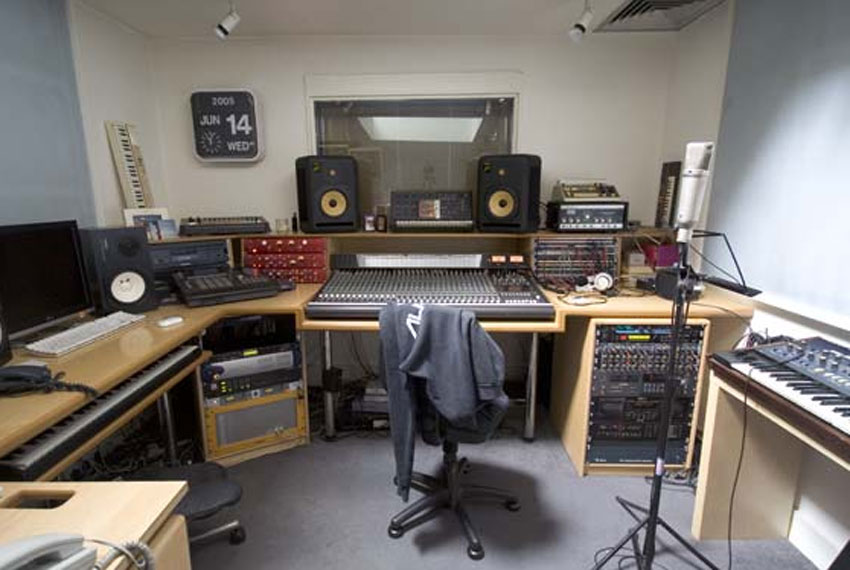 STUDIO FOUR
Small Writing room with separate Live room, window between.
Control Room size 16.6 x 15ft / 5 x 4.5m
Studio 4 : 5m x 4m
Originally this was the room we used for meetings, but Annie Lennox asked if she could use it as a writing room when she was writing "Walking on Broken Glass" and then the Bee Gees used it for a writing room whilst they were recording their album "One" in Studio Two, so that was it - no more meeting room. Matt Rowe later became a permanent fixture for 6 years in this compact little control room with adjoining live room and mic tie-lines. He spent many hours there working on Spice Girls tracks and writing new songs.
Nellie Hooper wrote and recorded the music for "Titanic" in this studio.
Live Room same size with 12 Tie lines
Comfortable control room and adjoining live room with mic lines and talkback
Mixing desk and monitor speakers supplied
Daylight via velux rooflight
Airconditioning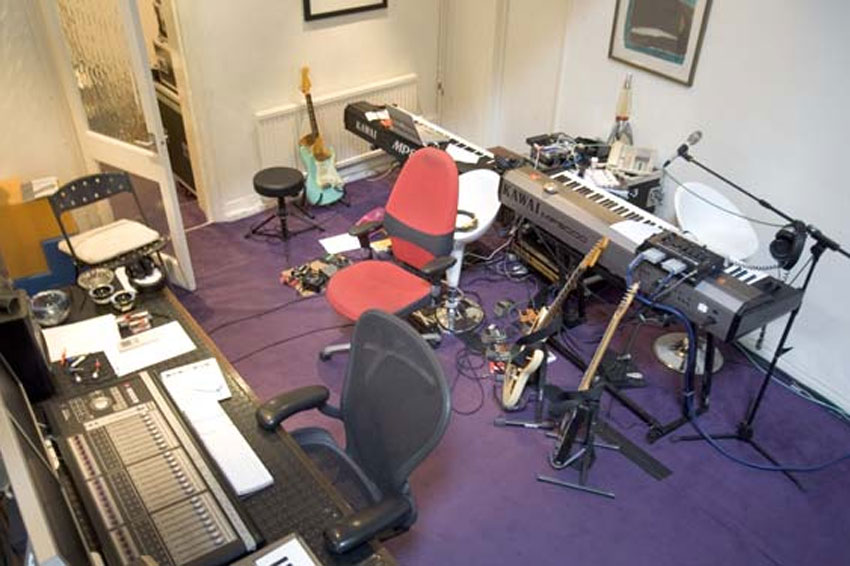 STUDIO FIVE
Studio 5 : 7m x 5m on 2 levels
A writer's/programmer's paradise. It had luxurious spacious room with daylight. Stairs to own mezzanine lounge tv area. Adjoining large office with self contained kitchen and and bathroom. Herbert Groenemeyer used this as his own special studio for 5 years. In recent years Rick Knowles worked there with artists such as Keith Urban.
Writing room with own Kitchen and toilet, office and mezzanine chill area
Completely self contained, airconditioned
Control Room size 23 x 16.5ft / 7 x 5m
A writer's/programmer's paradise. Luxurious spacious room with daylight. Stairs to mezzanine seating/tv/chill area.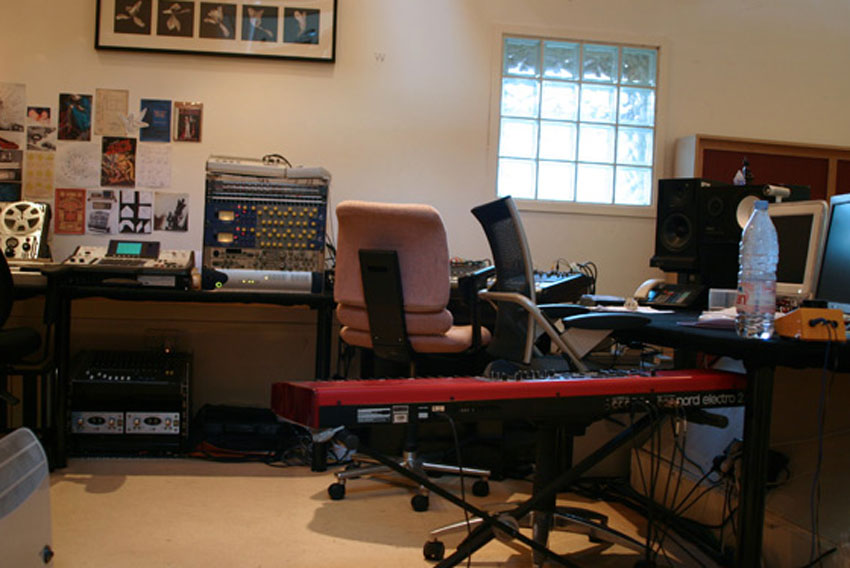 STUDIO SIX
Studio 6 : 6m x 5m on 2 levels
Guy Chambers and Robbie Williams persuaded us to build this room for them by converting our office space into a studio. There was a spacious main room with superb drum booth, rooflights with daylight. It had stairs to a private mezzanine seating area with tv and kitchenette. Needless to say we ended up with our office up in the loft which was the only space left in the building!
Rooms were soundproofed to NS10 level, airconditioned and serviced by Mayfair's highly trained staff
Spacious Writing room with separate Live BOOTH, round window between
Stairs to Mezzanine "chill" area with TV and Kitchenette/fridge and airconditioning
Control Room size 20 x 15ft / 6 x 5m
Live Booth 12 x 12ft / 3.5 x 3.5m
Comfortable control room and adjoining live room with mic lines
Mixing desk and monitor speakers supplied
Daylight via several velux rooflights and window
Airconditioning
MAYFAIR STUDIOS TECH SPEC
Click on the pictures for more technical info for Studio 1 and Studio 2.
For Studios 3, 4, 5 and 6 all relevant information is listed above.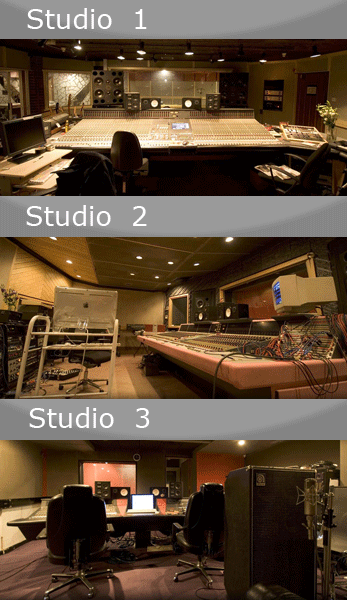 Have you recorded at Mayfair, or have some memories you want to share with us?